This client was thrilled!
The client had last updated their reception area several years ago when 'Rustic Italian' was very popular. They made a huge first step by updating the reds and golds on the walls to a lovely combination of warm grays, and painted the chair rail and other trim white.
They have warm tile on the floor that is staying, as well as a tumbled stone look tile as accents throughout the space.
They asked for help to bring in more color, warm up the space, and modernize the look, while respecting the Doctor's traditional taste. Challenge accepted!
Behr's colors Smokestack and Sculptor Clay are perfect for this bright, light-filled space and complement the hard surfaces perfectly.
The beautiful large rug instantly warms the space, while presenting a lovely palette of cool colors to choose from. I primarily chose to use blues and greens, with just a touch of warmth to blend nicely with the tiles and rug.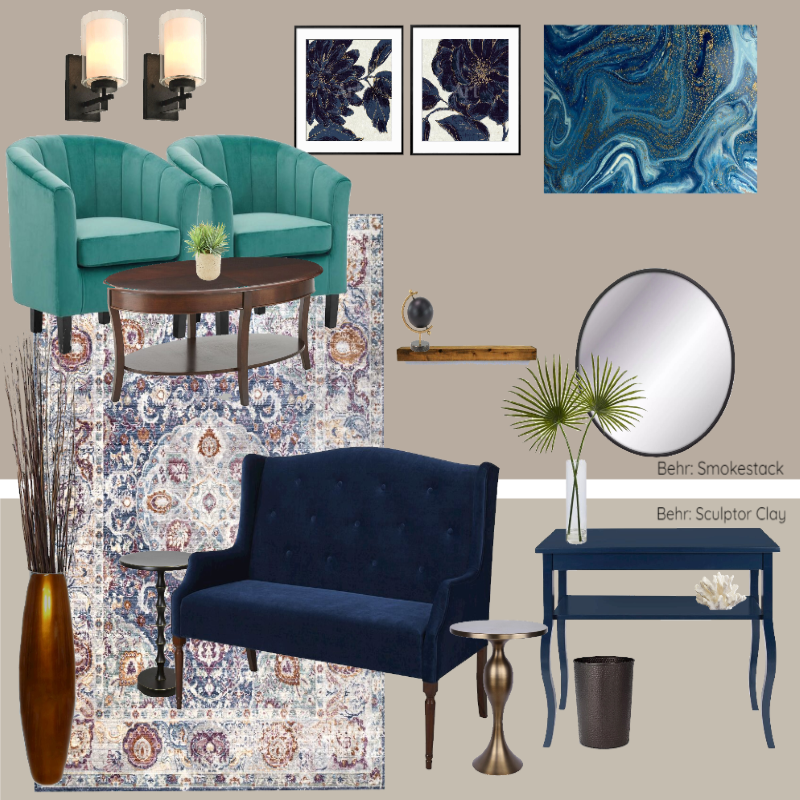 By choosing two different types of seating (the traditional settee and the modern chairs), patients are presented a choice for their comfort and this allows a sense of control. This is a subtle way to send the message of care and comfort to clients who may be a bit nervous.
The floral art is a modern take on a traditional subject, and the beautiful flowing blues of the agate painting have small touches of gold flaking for some fun!
Introducing height in the inexpensive dried sticks (only $10!) will be a lovely touch in a corner, and the mix of metals (some black, some bronze) also warm up the space.
It can be challenging to bridge the traditional style to a more current look, but this design board is a great example of how it can be done. If you would like help bringing your office space up to date to support your 'state of the art' branding, don't hesitate to contact us at On Point Space!