Are you feeling brave??
An all-white office is definitely not for the faint of heart, but can certainly be a calming, relaxing space for your patient family.
However, there are some tricks to employ to avoid feeling cold, austere or uninviting.
This board is a favorite of mine, and can be tweaked to incorporate for feminine touches, or steer more toward the masculine.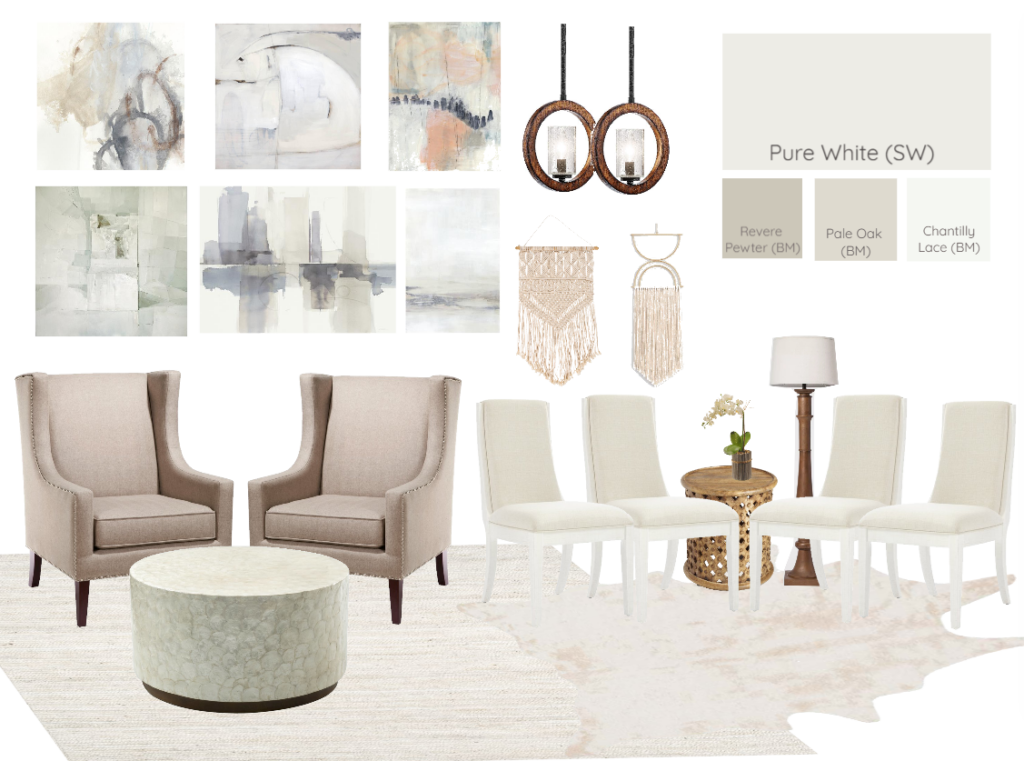 Using Pure White from Sherwin Williams as the main color will keep the white walls from feeling cold as it is just a smidge off-white and on the warm spectrum. Use Chantilly Lace from Ben Moore, a true white, for the trim and if you have cabinetry or an alcove to highlight, Revere Pewter (also Benjamin Moore) is a gentle warm taupe. Pale Oak from the same company will be a lovely complimentary color for hallways or treatment rooms.
Bring in more warmth and subtle color with beautiful abstract artwork, and consider a three-dimensional piece of art, such as a macrame wall hanging – very trendy right now!
Using wood accents will also warm up the space, and ground the white surroundings just enough to keep your patients feeling balanced.
One last tip to 'do white right', is to expand beyond plain white – blend in off-whites, light grays, light greens, and light pinks to make the white really shine.
And if leather is not in the budget, be sure to use scotch-guard on your fabrics!
Love what you see? Let On Point Space help elevate your patient experience with our design services!
Contact me here or at (970) 218-2209 or andrea@onpoint.consulting.