Clean lines, a blended palette of warm and cool colors, and a touch traditional!
Combining single seating in a classic Mid-Century Modern Eiffel Chair and a tufted upholstery bench to welcome your patients, and warm light glows from the matte black sconces dotting the space. The gold lining of the lighting is a bit of a surprise, and is a gentle nod to the traditional.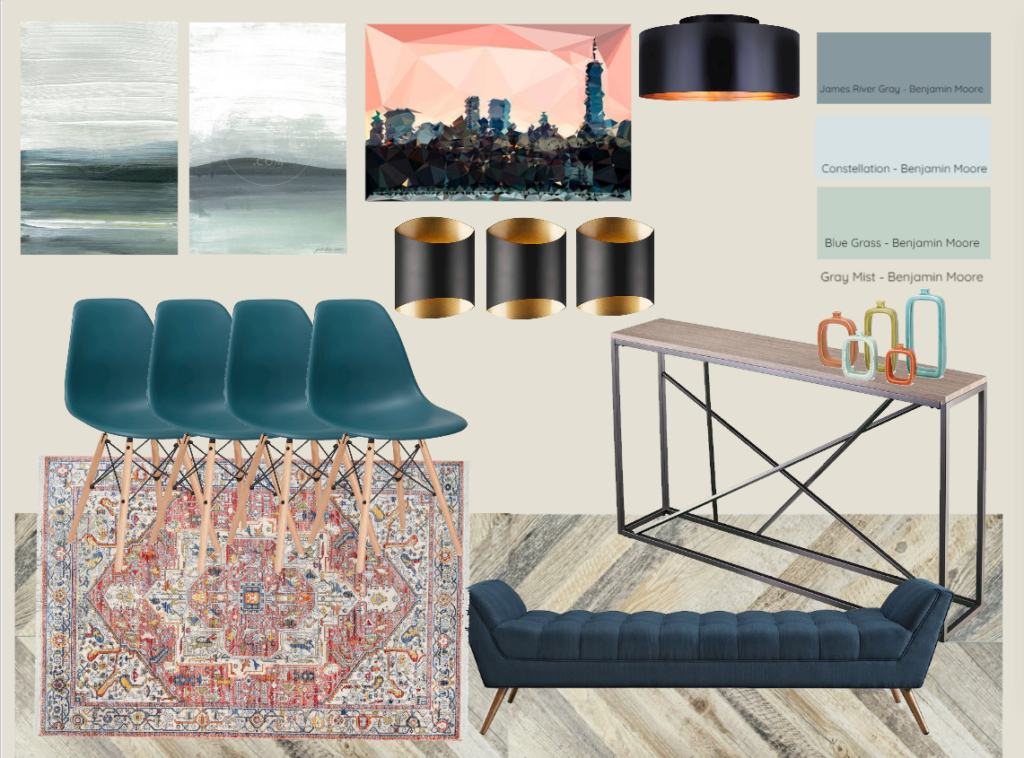 The rustic vibe of the wood flooring makes for a solid foundation to balance the modern lines of the furniture, and the classic medallion rug is very traditional. The riot of color in the rug is softened by a treatment that makes it appear worn and almost distressed, and appears plush and comfortable. The print in the rug will also hide the occasional stain and traffic wear.
The warm wall color, Gray Mist also points to the traditional, and the warmth of this color is complimented by the choices of accent colors. To avoid the space from feeling cold, don't go overboard on the blues and blue/greens!
The artwork is soft, abstract and includes both warm and cool color palettes. Choose canvas wrapped prints over glassed frames to help with acoustics in your office. They are also lightweight and easily moved around the space.
Like what you see? Contact On Point Space today to explore your Office Refresh! Contact me here or at (970) 218-2209 or andrea@onpoint.consulting.